Zoosk is an interesting and easy to use dating website, which can help you establish a connection with the right person in the worldwide. With more than 30 million applications downloaded and more than 40 million single database, you have a high chance to meet special people.

How does Zoosk work?

Zoosk provides potential matches through its quick like or swipe function or through its behavioral matchmaking function. Zoosk applies traditional and modern online dating methods, making it very popular and effective among single people seeking love and relationships.
In addition, Zoosk members can search profiles based on their dating preferences and personal information. Joining Zoosk is free, but sending and receiving messages is an advanced function. However, standard members can still send their hearts and smiles to the profiles they are interested in.
Members on Zoosk can write interesting introductions on their profiles which is a good way to increase his attraction to find more matches.
How Much Does Zoosk Cost? 
Nowadays, Zoosk's pricing is quite standard for the dating industry. If you want to test the waters first, you can create a limited free account. In order to access all the features, you will probably need an premium reservation. The starting price for a month is 29.95 dollars for one-month subscription.
If you like this experience, you can sign up for a full six-month plan at a price of $11.00 per month to maximize savings. A 12 month contract is a better deal at $8.33 per month. You will save a lot of money if you make a one-year subscription, which is an excellent choice for those who are going to join the dating platform.
General speaking, Zoosk is a very low-cost option to start your romance online journey. Many dating platforms charge more than $30 a month, but Zoosk's annual subscription option reduces this cost to a more affordable level.
What Can You Do With Zoosk for Free? 
Zoosk provided a free account. In fact, you can get a lot of previleges from it, including Carousel, behavior matching tools and unlimited manual searches. But you will be a bit limited without upgrading the membership.
Although you can know the available users in your region, you will not be able to send messages, chat with other users, or connect to the ones who have checked the personal information. You will not be able to use Zoosk's "SmartPick" behavior matching function, which can determine the matching for you according to your preferences and behaviors.
Through the free membership of Zoosk, you can browse and check the online membership in your region. You can also see which users expressed their interest in your personal information, but it is almost terminated here.

If you want to contact other users and chat, you need to upgrade to premium payment. This made it impossible to get the date of Zoosk for free.
Premium Features and Upgrades on Zoosk
Zoosk offers a range of interesting features designed to make the online dating experience interesting and exciting. One of the most unique and useful features of Zoosk membership is the Appointment Opinion Report. These are some of the main benefits.
It helps you know more about your dating preferences and even your own personality, so as to help you know more about yourself or whom you like to date.

It makes the process of choosing faster and easier, and sometimes it could become a real eye opening world.

The more times you use this website, the more information you collected and the more insights you gain.
If you want to contact someone in Zoosk, you can Smile or Like their profiles. Besides, you can send messages to the members. Or, if you really like someone, you can send them a virtual gift to show your goodness. 

The Zoosk Boost function was a super smart and easy way to promote personal information. Using Zoosk coins to buy Boost will help you notice and highlight the different positions of Zoosk, including character messages and turntable (search tool). Zoosk coins could be bought or obtained through live activities. For example, it could be used as a fan or a mobile application on Facebook.
How Does Zoosk Work
Zoosk is one of the world's most popular dating platforms and uses advanced technology to ensure it continues to offer leading online dating solutions. Most notably is its intelligent matching algorithm, which analyses the people you interact with and suggests possible matches.

How to Sign Up for Zoosk
The signup form is at the top of Zoosk. com, it's super accessible for any people. You can create Zoosk accounts in one minute, which is very fast compared to other dating sites and applications. At any time, if you want to get better search results, you can go back and spend more time filling in additional details about yourself. The initial process was simple. Zoosk will ask you to provide some basic information (name, email address, date of birth, location). Next, upload photos. You can do this from your desktop or Facebook account. Add more personal information such as your body type, ethnicity and education level. Once you confirm your account by email, you can start using it.
Setting Up Your Profile on Zoosk
If necessary, you can return to the main configuration file and edit the information entered during the registration process. It's easy to do and worth introducing yourself and adding some interesting photos to attract potential dates.
Photo verification systems allow you to literally verify photos of people who look like they have uploaded to their profile, so you can avoid falling catfish. Zoosk will use its SmartPick after you answer a few questions based on your dating preferences and continue using the site ™ The AI system introduces you to people you may be interested in.
One of Zoosk's strongest features is its matching algorithm, which finds the best match for you and prevents you from wasting time swimming at home. As more and more of us spend time at home rather than on traditional dates, it's good to know that Zoosk takes its features seriously and gives you a chance to find what you are looking for.
How to Find Matches on Zoosk
1. Behavioral Matchmaking
Behavioral Matchmaking  is like machine learning in the field of dating. The system will learn your preferences, likes and dislikes, so it can constantly provide you with more accurate results. It is one of the most complex ways to find the game and is known to be very successful. Zoosk will send you a matching option every day and you can either respond or decline.

2. Manual Search
You can manually search Zoosk's database to find your own matches. This is easy to do: simply click from one profile to the next until you see a profile that is appealing to you. You can see pictures of other members'profiles, ages and locations to quickly determine if you are interested in learning further.
If so, there is a quick messaging option, which we will discuss in the communications section below. You can also use filters such as age, location, distance, race, and relationship status to edit your search for more specific results.
3. Carousel
This is a quick matching feature that allows you to browse a large number of configuration files at a glance. You will display the configuration file pic and can click Yes, No or Possibly to quickly browse through multiple configuration files per minute.
This is a good way to view a lot of files, so if you are good at snap decisions, this is your route. You can also be a member of a star and signal to them that you have taken an interest. Then they make the next decision. Note that turntable search is a limited feature and you need to pay in virtual coins after a certain number of views.
Safety & Security at Zoosk
Zoosk has a photo verification step, it requires new members to take their own photos with their smartphones. This could prove that they are real human, and minimize the chance to get involved in spammer or robot.
Besides, Zoosk has a strong non-harassment policy, which can simply block people from disturbing or inappropriate behaviours. The platform also has a useful online dating safety guideline, who dedicates to providing tips to make the dating experience safer and more comfortable for everyone. It provides useful advice for making your online connection, meeting in person, and even sniffing out the spasm.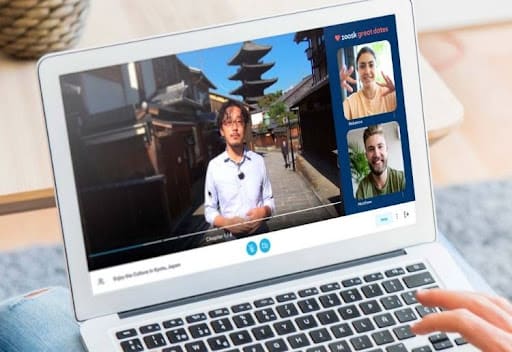 Zoosk App
Zoosk had a convenient mobile application, which makes it easier to contact people for a whole day. It's available for Android and iOS devices, and it provides almost the same function as a web client.

For one, the Zoosk messenger app allows you to send messages to anyone on the network, making the initial communication easier and more embarrassed. If you are looking for a more casual dating experience, it is also useful, because it can easily search and quickly filter personal information.
In addition, you can choose from the ice breaking boats you have chosen in advance. These ice breaking boats will be sent to various users, and then the users can assess their interest and reply, so as to start a deeper conversation. Another useful tool, SmartPick, uses the technology to choose a match for you based on the matching and your favorite history.
Zoosk Customer Service 
Zoosk has a extensive help center, which included a searchable FAQ. You can talk to the online customer service through Zoosk social media account or submit an online support ticket.
It might be difficult to get a refund through Zoosk. It didn't have a refund policy. Instead, it encouraged users to consult the customer service team about any bills or accounts.
How to Cancel or Pause a Zoosk Subscription
The easiest way to cancel or pause the Zoosk subscription is to turn off the automatic renewals. During the current term, you will benefit from the advanced features, but you won't be charged after it expires. In this case, you will be able to maintain a free account and upgrade it again in the future.
However, if you want to delete your account from the Zoosk platform, it's also possible to delete your account completely. From the setting menu of the browser (Gear Icon on the smart phone app), click on "account", and then clicked "account status". Then click "Deactivate" and deleted the account according to the instructions.
Zoosk Love Stories
"Our first date was very successful... Since then, we have been dating. I proposed to her on Saturday. She said yes. Thank you for introducing me to the woman in my dream, Zoosk."- Scott, CA
"I never thought that I would find my partner in Zoosk, let alone any dating website. But later I found Jake. He became one of my closest friends in a very short time... I have never been so happy in my life. We pushed each other every day, making each other more active and concerned. I really thank Zoosk for helping me find a partner."- Kate, PA
" Kevin and I have been chatting on Zoosk since January 2017. He has traveled a lot and is humorous, which has attracted my attention. As time goes by, we become inseparable. You have the final say. We have made it. He is the most considerate, loving and loving person I know. The way he loves me has changed my view of life. I really appreciate Zoosk for introducing me to my friend's future husband."- Gina, Mi
Does Zoosk Work? 
After a comprehensive consideration, Zoosk is an affordable dating app, suitable for casual or serious relationship. If you search for love on the Internet and use Zoosk, you can enjoy the advantages of an easy to use system and a compatible matches.
This might be my favorite dating application, because of its usability and the dating pool. I should have used it the first time it appeared in my social media advertisement. I suggest you have a try.